Microsoft has just announced the arrival of the new xbox console the Xbox One. The Xbox One is the upcoming eighth generation gaming console from Microsoft that was announced May 21, 2013.
Features
---
Media inter-connectivity
The Xbox One will allow instant and simultaneous access to movies, live TV, music, and Internet Explorer.
Set-top box integration
Microsoft will introduce a feature that allows its next generation console take over a TV and set-top box in similar way to Google TV. The Xbox One will take a cable box signal and pass it through to the TV via HDMI, allowing Microsoft's console to overlay a UI and feature on top of an existing TV channel.
Voice control
The console will feature a similar, albeit richer set of voice control abilities than those found in the first generation Kinect. This will allow users to control Xbox functions via voice command. All voice control will be coordinated through the Kinect, and with this ability Skype will also become a function of the new Xbox.
Controller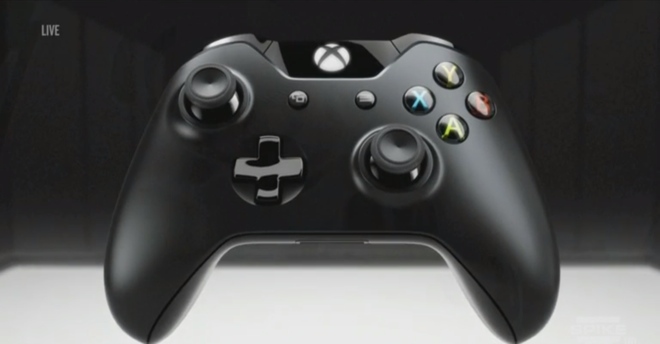 An Xbox One controller.
The controller maintains the overall design of the Xbox 360 controller. The directional pad has a more traditional design compared to previous Xbox controllers, and the battery compartment is slimmer.
Kinect
The new Kinect will have "wake with voice" for the Xbox console. It will have a 1080p camera compared to the VGA sensor on the original Kinect. The new motion controller would process 2 gigabits of data per second to accurately read its environment.
Operating system
The device will run three operating systems: Xbox OS, an OS based on the Windows kernel, and another OS that will allow the other two operating systems to communicate by virtualisation (as a hypervisor). Such integration will include features like snapped Skype calls while in game. The edition of Windows on the Xbox will, however, not be compatible with standard Windows apps, but Metro apps will be easily portable to the OS.
Xbox Live
The Xbox Live is scaled up to use 300,000 servers for Xbox One users from 15,000 that handle the Xbox 360 users.
Backward compatibility
The Xbox One will not be backward compatible with Xbox 360 content, as the systems use different core architectures. The Xbox 360 uses a PowerPC architecture and the Xbox One has moved to an x86 based one.
More information check this article-
http://www.ign.com/articles/2013/05/21/xbox-720-is-called-xbox-one
Comments
Personally I think the Xbox one has some really cool

features and it has a lot of innovative ideas but My friend made me realize something. While we were chatting about this he said "I think the xbox is geared more towards adding more extra features such as entertainment and web applications. While this is great I think they should focus more towards gaming." Said WhizKid Personally I think he might have a point because this is true while the xbox looks great it may be focused to much towards extra features.

The xbox one all together seems to be pretty great and I am looking forward to playing it!

Leave comments below. Do you like what they made of the new Xbox. Have information tell us about it below.
@
WhizKid